A Leaking Dishwasher Can Cause Water Damage inside of Your Canoga Park Home
9/16/2018 (Permalink)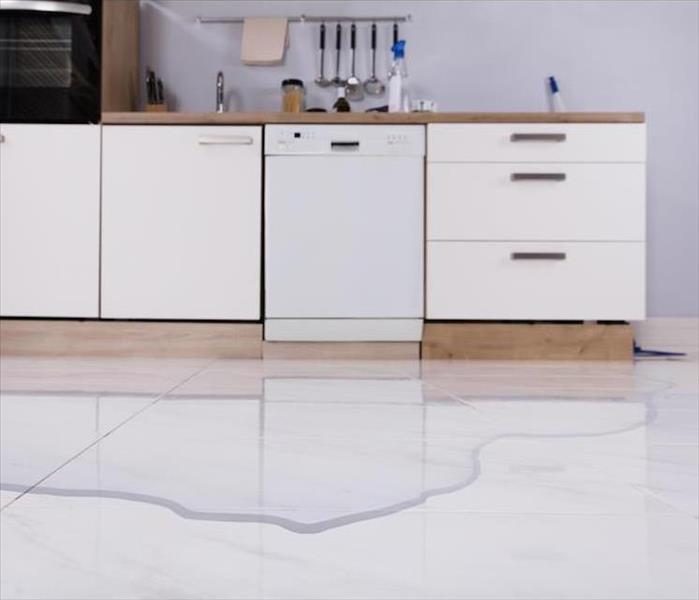 If your dishwasher suddenly dumps water on your kitchen floor, call SERVPRO to both dry out the room and remediate the damage.
Team SERVPRO Offers Effective Water Damage Remediation in Your Kitchen
Appliances are extremely useful tools to have inside your home, but they can be troublesome when they break down and cause problems such as water damage. When it comes to your dishwasher, a frequent leak could cause further troubles inside of your residence should it not be addressed. While it may be tempting just to lay a towel down and delay a professional from fixing your appliance, doing so can cause damages to your tile flooring.

When water damage sets into your Canoga Park kitchen, it can crack floor tiles. When your dishwasher leaks, the water initially pools onto your floor around it. However, over time, the water slowly sinks between the tiles and into the base below it, causing it to expand from the absorption and causing cracks and separation above. Furthermore, the water can damage the cabinets around your dishwasher. If the damage it is left unchecked, the water can cause further complications such as mold damage. To ensure the longevity of your home and avoid unnecessary expenses, it is essential to call for help upon finding water damage inside of your home.

When you call SERVPRO, we always strive to arrive at your home within hours of your first call. Our first employ to arrive is our Estimator, and they can walk you through the damage after an initial inspection. Our Estimator is there to answer any questions and address any of your concerns.

When our IICRC-certified technicians arrive, we can begin the remediation promptly. Here at SERVPRO, we use advanced trade technology, such as devices like air movers, dehumidifiers, and axial fans. Using all three in conjunction allows us to create an environment that is ideal for the evaporation of moisture. Over a period, these devices can draw the moisture away from your belongings and prevent further damage. At the end of the remediation, SERVPRO can do one last sweep to ensure that the moisture levels inside of your home are adequate.

If you find water damage inside of your kitchen, never wait to call for services. Get in touch with SERVPRO of Canoga Park / West Hills by phoning (818) 998-1500. Night or day, we are always available to help.

Click here for more information on the city of Canoga Park.