Fast Action Is Required When Mold Is Located In Your Canoga Park Property
10/31/2018 (Permalink)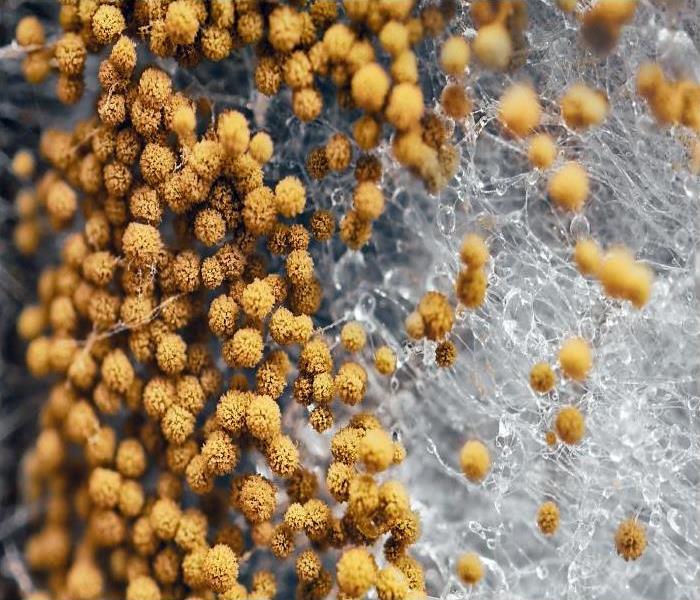 Spores are microscopic and can easily penetrate even the tiniest cracks and openings in your walls and floors.
What Can Happen Without Early Action For Mold Damage In Canoga Park
We urge everyone in Canoga Park with mold damage in their home to call SERVPRO sooner rather than later. Otherwise, mold can grow and spread around the house and become an even greater problem. In some cases, homeowners may see visible growth die and fade and think that their worries are over, only to later discover a much more serious colony growing elsewhere. Getting us on the scene ensures that any hidden patches of growth can be found and that none of these severe complications result.

Mold In HVAC Systems
One of the most common places our experts find mold damage in Canoga Park homes is the HVAC system. Because all the air in the house circulates through a few enclosed, dark spaces, airborne mold spores can accumulate on filters, corners, and debris in the system. The only way you are likely to find out about growth here is through your nose, as the odors from any infestations in the HVAC system are likely to spread around the house quickly. Our technicians are experts at finding and removing mold colonies here and are fully HVAC certified.

Behind Walls And Below Floors
Spores are microscopic and can easily penetrate even the tiniest cracks and openings in your walls and floors. Once below the surface, they may find a dark, warm, and food-rich environment to grow. In many cases, these infestations grow to an incredible size before any visible mold appears in the home. As part of our standard inspections, we use moisture detection technology to identify potential colonies hidden behind the surfaces of your home.

Quarantines
In some cases, the mold damage may be so extensive as to require a quarantine. Usually, only a room or section of the house gets cut off, but that depends on how severe the infestation is. Quarantines are done to contain the damage and prevent it from spreading any further, but are also a safety precaution, as mold damage may cause health effects to those without protective gear. Calling SERVPRO at the first sign of mold damage is the best way to avoid quarantines entirely.

SERVPRO of Canoga Park / West Hills is ready on a 24/7 basis to help your home deal with mold damage crises large and small. Just call us at (818) 998-1500.
Click here for more about Canoga Park.