Our Team At SERVPRO Can Handle Any Size Water Damage Disaster In Your Canoga Park Home
11/7/2018 (Permalink)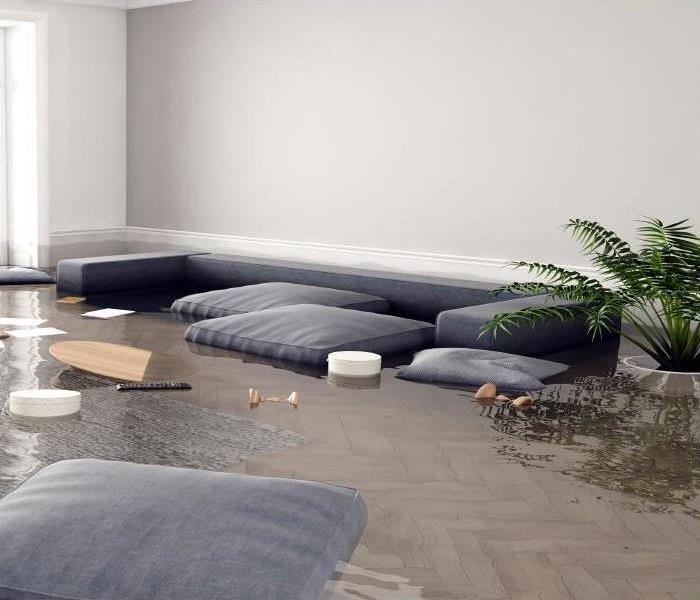 Both moisture that is present on the floor and vapor in the air can both cause extensive water damage.
Water Damage Professionals In Canoga Park Talk About Possible Dangers
If a pipe breaks or an appliance ever malfunctions inside your Canoga Park home, moisture will follow gravity and affect every building material it touches on the way down. Both moisture that is present on the floor and vapor in the air can both cause extensive water damage.

Stagnant water can be dangerous and become a breeding ground for harmful bacterias. When moisture penetrates building materials, it can also make them lose their structural integrity. Even though with smaller leaks it is possible to do by yourself, it is still wise to contact SERVPRO to ensure all of the proper steps of restoration get followed.

After a mishap takes place on your property, it is vital to be conscious of possible hazards that could have been created. Before our SERVPRO technicians begin mitigating any water damage situation in Canoga Park, we take several steps to ensure that the work area is safe. If the problem is minor, our technicians can often fix the issue themselves. If the problem is more severe, like advanced electrical issues, then we can call in a licensed subcontractor to repair the problem. In these cases, our team blocks off the hazardous area of your house until the problem can get mitigated.

When moisture gets onto the floor, it can create slip hazardous that are labeled and then dealt with during the extraction process. If materials like drywall or ceiling tiles get wet, they can create fall hazards. To avoid problems with things falling our SERVPRO technicians remove in possible building materials that seem like they are weak enough to fall.

Stagnant or standing water itself can be dangerous; therefore extraction is usually the first step we take during the mitigation process. Even if the source of the issue is a clean water source, parasites and bacteria can still form in the affected areas if not treated quickly. Moisture can also attract insects and small rodents if not removed promptly. If you ever notice standing water after a leak, call SERVPRO of Canoga Park / West Hills at (818) 998-1500 24/7.
Click here for more about Canoga Park.