The Advantages of SERVPRO's Fire Damage Remediation Services in Canoga Park
1/24/2019 (Permalink)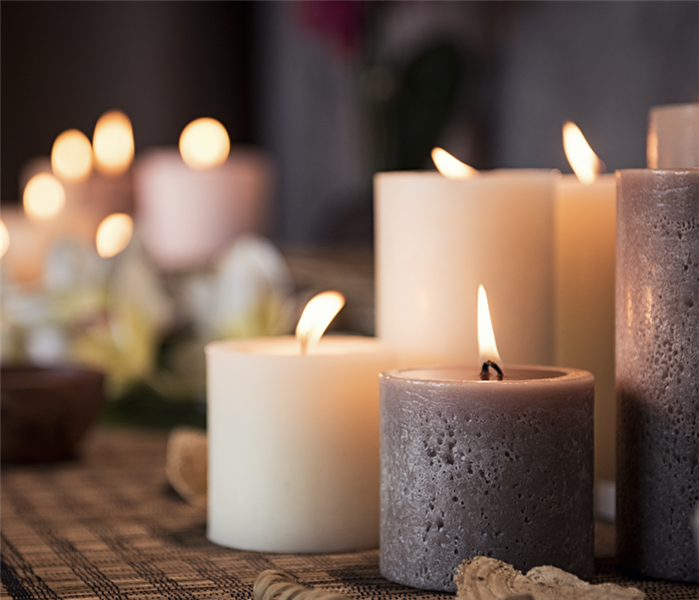 Candles should be monitored when they are lit because of the possibility of fire. Contact SERVPRO right away if your home has fire damage.
Why SERVPRO Should Be Your First Choice for Fire Damage Restoration in Your Canoga Park Home
Candles have long been used for lighting homes, and even though electric light bulbs have overtaken candles as the primary light source for homes, many people in Canoga Park still use decorative candles. There is something about the scent and flickering glow of candles that is charming and keeps people buy more.

Lit candles are, unfortunately, the cause of many preventable fires and fire damage. If your home has fallen victim to fire damage in Canoga Park, you need help restoring your home. SERVPRO has fast, 24-hour service which means we can get to you whenever you need us. Add that to our professionally trained staff and industrial tools, and it is easy to see why SERVPRO is the choice to make for fire damage restoration.

If you love burning candles at home, knowing some safety tips is essential. Firstly, burning candles should not ever be left unattended, and you need to keep them away from anything flammable. If your candle is in a holder, it needs to be sturdy enough so that it cannot be easily knocked over, especially if you have pets or young children in the home. When accidents happen, SERVPRO technicians can help you clean up the mess, even from a small fire.

Along the same line, any candles you are burning should not be in reach of pets or children. Curious hands can quickly and easily get burned and cause an accident in your home. It is also recommended that the wicks on all your candles are trimmed to a quarter inch before you start burning them each time. Wicks which are longer can create uneven burning and dripping.

Make sure and read the instructions from the manufacturer as well. Most candles should not be burned for more than a couple of hours at a time. When you are ready to extinguish the candles, use a candle snuffer instead of blowing on them since hot wax can splatter.

For additional safety, you can purchase flameless candles as a safe alternative. They produce a similar glowing, soft effect that real candles have. During a power outage, lit candles are not recommended. Instead, use battery-powered lanterns, flashlights, or flameless candles.

SERVPRO of Canoga Park/West Hills is always available to help you restore your home in Bell Canyon, Winnetka, or West Hills after a fire. You can reach us by dialing (818) 998-1500 whenever you need, and we can make the fire and smoke damage only a memory.

Click here for more about Canoga Park.