We Understand That Prompt Fire Damage Restoration Is Crucial In West Hills
5/2/2019 (Permalink)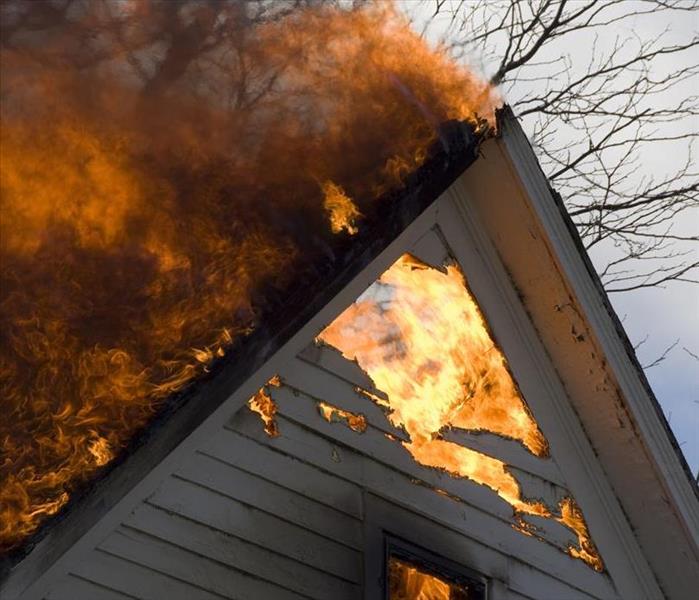 We are available 24 hours a day, 7 days a week, so don't hesitate and call us right away to prevent further damage.
A Malfunctioning Hair Dryer Can Cause a Fire in Your West Hills Home
Your morning routine can find itself very interrupted when fire damage makes an unexpected appearance. Getting ready for work every morning tends to involve a shower, drying your hair, and then using skincare and hair products. However, when your hair dryer electrically malfunctions and catches fire, you may find that the plastics of the dryer have melted onto your vanity. Additionally, the blaze can also destroy your cosmetic products as well, turning them into a molten, greasy, and bubbly mess.

As the fire damage inside of your West Hills bathroom begins to cool, it can become even harder for professionals to remediation it without any issues cropping up. For this reason, it is essential to call for professional help as soon as you possibly can, once the fire has been extinguished. The quicker that professionals can arrive, the better it is for your home.

When you contact SERVPRO, we always put together a team of technicians and then swiftly send them to your home. Promptly arriving is essential in our line of work, as fire damage is time sensitive. Once we get there, our SERVPRO techs can immediately launch into an investigation of the damages and then create a remediation plan accordingly.

SERVPRO can start by taking inventory of every product that was consumed by the fire, so you know what you lost. From there, we can remove any plastic bits, which were leftover from the cosmetic products and the hairdryer. Without all of the burned clutter, it is a lot easier to address the rest of the damage.

The smoke from the fire caked soot onto your pristinely white vanity and blackened it. SERVPRO can use lubricative cleaning solutions to lift the grime away from the surface, by applying a simple spray-and-wipe method. It may take several repeats of this step to get the sink back to its pre-fire state but, over time, the grime can be lifted away layer by layer.

Once all the physical evidence of your small fire has been removed, including soot on the mirror, walls, and door, all that remains is to remove the malodor left behind. SERVPRO has several options when it comes to removing the burning-plastic scent in the air but, for this job, our technicians can use hydroxyl generators to change the particles in the air that cause the odor in the first place. Once finished, we can return your home to you, "Like it never even happened."

When fire damage interrupts your life, never wait to get it back on track. Speak with SERVPRO of Canoga Park / West Hills by dialing (818) 998-1500. Day or night, we're always ready to assist you.
Click here for more information about the May 2019 Community Beautification Project.