We Follow The Proper Steps To Ensure West Hills Flood Damage Is Restored Efficiently
9/18/2019 (Permalink)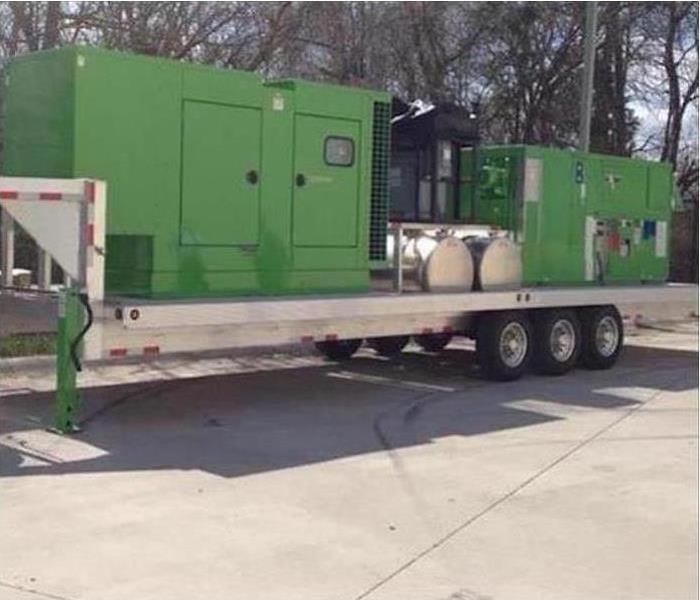 SERVPRO can provide the equipment needed such as the desiccant dehumidifier shown to restore your home after flood damage.
Flood Damage West Hills – Water Pipe Fitting Gives Way
Flood damage often comes from storms; however, broken water pipes can also flood homes or business offices as well. As pipe joints age and foundations shift, leaks can develop inside walls and go undetected until water is flooding an entire floor. Carpeting, underpad, walls, and even the subfloor can absorb moisture requiring removal and restoration.
SERVPRO can respond to flood damage in West Hills and surrounding areas immediately. Our first step is to mitigate the leak. The main water supply is shut off, and we confirm that it is safe from electrical hazards to enter the premises. Our crew chief can assess the damage and arrange for water removal equipment to be delivered. Furniture and contents are removed, dried and placed in a staging area while work on your home or office is completed.
Replacement of Carpet and Under pad
In some situations, the carpet and underpad must be replaced. The carpet is replaced if it separates from the backing. The underpad is usually replaced as well to ensure that the subfloor is entirely dry before new carpeting and under padding is installed.
Otherwise, SERVPRO can use a weighted water extractor to remove as much moisture as possible. One of our technicians rides on the extractor to enhance the efficiency of the extractor. Air movers and dehumidifiers are brought in to dry the carpet and the underpad completely. The air movers blow dry air in the direction of the dehumidifier over the damp carpet.
Flood Cuts
The wall may be removed up to a foot or two above the floor to remove damp or wet drywall after flood damage. Wet insulation and wall structures are exposed where water was pouring out of the broken pipe. SERVPRO checks and fully dries all areas that may have been exposed to avoid future problems with mold and odors.
Once the walls are dry, restoration contractors can begin. They can install new insulation, drywall, underpad and carpeting to bring your home back to its original condition, "Like it never even happened."
Call SERVPRO of Canoga Park / West Hills at (818) 998-1500 for 24/7 service. We serve the towns of Winnetka, Bell Canyon, and surrounding areas. We're Faster To Any Size Disaster.
See more about West Hills.