West Hills Home Under a Smoke Attact after a Fire? Rely on SERVPRO for Restoration, "Like it never even happened."
9/26/2019 (Permalink)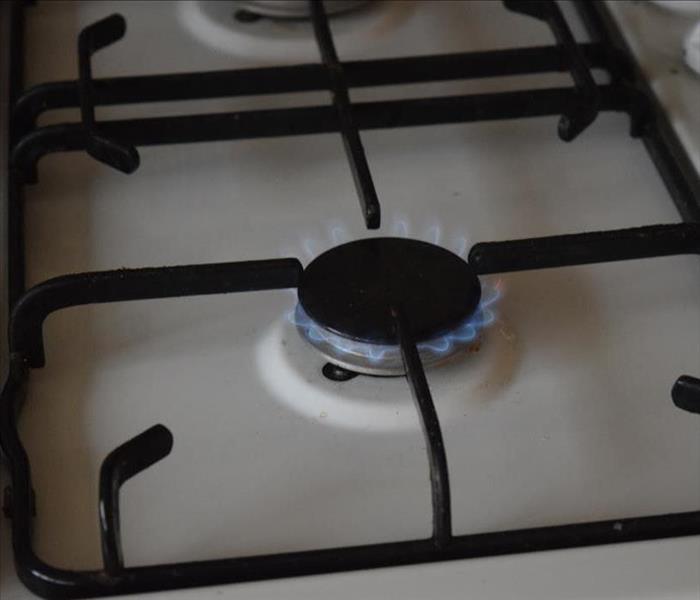 SERVPRO Says Be Careful with Kitchen Cooking to Prevent Fire and Smoke Damage to Your West Hills Home. Turn off that burner!
Fire and Smoke Damage West Hills – It Can Happen So Easily
Here is a nightmare scenario. Supper is over, and it is time to clean up the dishes. A gas burner remained on a low setting. The kitchen is hot from cooking, and no one notices the hot burner. Everyone is in a hurry. The parents go out for a drink. One daughter is babysitting. The other daughter is home studying in her bedroom when the fire alarm goes off. A plastic cutting board remained on the hot burner.

SERVPRO responds to fire damage events in West Hills and surrounding areas for both small fires as well as those that cause catastrophic damage. We can help restore your home after the fire is out, and the fire department has left. The couple who left the burner on is fortunate. A quick-thinking neighbor threw the cutting board into the sink before there was much damage.

Fire Department Responds
When the fire department arrived with four trucks, the fire was out, and the house was full of smoke. After assessing the situation, the firemen suggested placing a large box fan in the kitchen window to exhaust some of the noxious fumes. This couple was fortunate that there was so little damage. However, what about the smoke damage from the burned plastic cutting board?

Potentially Toxic Gases
It is difficult to know what gases are emitted while the cutting board was smoldering. Some of the gases can be quite toxic. These include carbon monoxide, hydrogen cyanide, and hydrogen chloride.
Ventilation and Odor Removal
SERVPRO recommends for this situation that the home should be well ventilated and that all surfaces cleaned of any residue.
In more challenging situations, technicians may need to wear air-filtered masks for severely damaged conditions. Consider a professional cleaning to eliminate the soot and pungent odors from your home. These smells can remain for months until corrected mitigated. Air scrubbers and hydroxyl generators and even thermal fogging may be required.

Call SERVPRO of Canoga Park / West Hills at (818) 998-1500 for 24/7 service. We proudly serve Winnetka, Bell Canyon, and surrounding areas. We're Faster To Any Size Disaster.