We Get You Back To Business In Canoga Park
10/15/2019 (Permalink)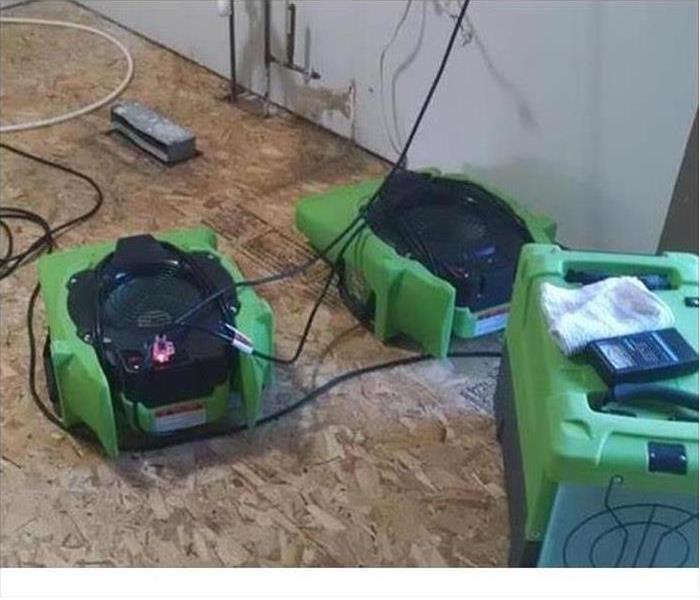 Our SERVPRO dehumidifier and air movers remove water vapor from the flooring. Call us right away so we can get started to prevent further damage.
Hazardous Situations Solved by Commercial Water Removal, Allowing Restart of Plant Operations in Canoga Park
Whenever a pipe breaks, vats overflow, or the roof leaks during a storm, your Canoga Park plant's safety levels can plummet. Not only are accidents of the slip and fall variety more likely, but chemical contamination and electrical hazards also increase. Federal regulations require different protocols for different situations, including the evacuation of your facilities. Getting the water out of the equation decreases the problem's severity and allows you to concentrate on any additional issues.
After an accident, plant managers in Canoga Park need rapid water removal, and SERVPRO carries all the necessary equipment to get things done swiftly. Our equipment allows us to extract vast volumes of water at a steady rate. A large water supply pipe, with its high pressure, can flood a factory very quickly. Shutting off the main valve into the plant might cause a hardship in the lavatories and kitchen facilities, but until the line's repairs seal off the break, such shut-offs remain necessary.
When water damage comes from a break in a level not on the ground, getting it extracted before it can drain through the building's structure can protect many interior components. Moisture can spread very quickly from one area to another place. We need to protect the machines in your factory like we protect the structure. The moving parts inside machinery can corrode if humidity levels remain elevated significantly above normal. Malfunctioning equipment can injure workers in the vicinity and fail to function.
Just like our pump trucks have different attachments to remove water in its liquid form, they also have attachment points for us to hook up other extraction equipment. Our crew members use portable units that function like the well-known wet-vac but with a much larger tank. Getting the floors dry makes them safer by providing visibility and traction.
Our pump trucks also help us with removing water vapor in the building's air and many other components. Metal fabricated warehouses with or without interior structural materials can rust after prolonged exposure to moisture. When walls retain water from a top-down water line break, we can aerate the interior environment and get it dry from the inside to the outer surface, increasing the effectiveness of any air movers and desiccant machines present.
When necessary, our building services department crew helps with other aspects of our customers' property. HVAC and electrical systems, in addition to plumbing, are handled by our highly experienced professionals.
SERVPRO of Canoga Park / West Hills' employees realize that strict Federal and California regulations regarding worker safety and facility management exist and that failure to adhere to such standards can create gaps leading to injury or worse. Plant closure means lost revenue and missed shipments. Call us at (818) 998-1500, 24/7 for emergency response.
See more about Canoga Park.