Smoke and Odors Create Poor Air Quality in the Canoga Park Area Post Wildfires--Call SERVPRO for Cleanup
10/26/2019 (Permalink)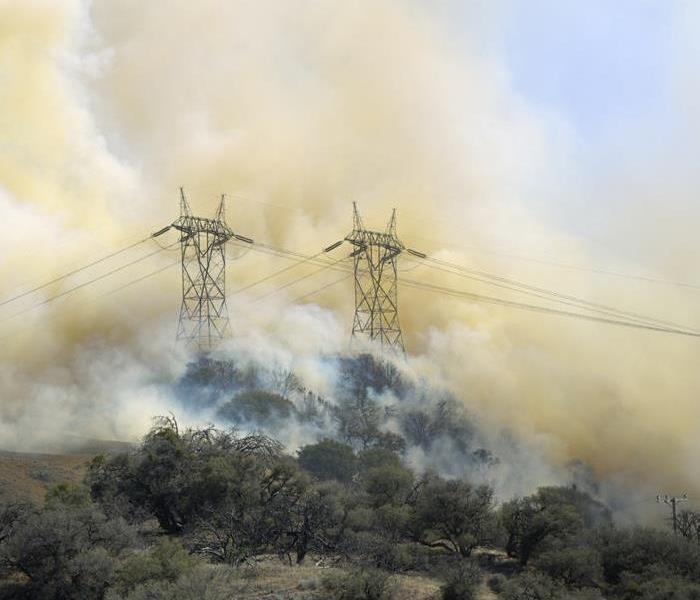 When Wild Fires Strike Closeby to Your Canoga Park Property--SERVPRO Is Also Closeby, and Ready to Help
Canoga Park Homes Affected by Wildfires Need Stout Odor Control
Most Southern Californians agree that one of the worst parts about wildfire damage is the residual odors left behind. The pungent smoke odors have the potential to embed deeply and often prove difficult to remove. The Tick Wildfire does not have to directly impact your property. The air polluted by these types of wildfires can cause extensive damage.

The root of the need for odor control from wildfires in Canoga Park residences ranges from light to heavy depending on the amount of fire loss within the property or the zone within the heat and smoke and how rapidly cleanup efforts commenced.

Why SERVPRO?
The odor from wildfires generally requires stronger applications than methods that simply cover the smell. Smoke odors emanate from soot particles and residues that need cleaning. SERVPRO technicians use both professional cleaning methods, solvents, and cleaners as well as equipment to remove all types of smoke residues and lessen odors.

Dry and Wet Smoke
A single area of a home may contain both types of smoke residue, and each type requires the correct cleaning processes, or the result may be more damage. Dry cleaning sponges are very efficient for picking up dry smoke, while greasy smeary wet smoke residues often require a solvent to loosen their grip to surfaces for total cleaning.

Removal of Fire Loss Debris
The charred building materials and contents in the home require elimination and in some cases, are cut away through controlled demolition techniques. This action diminishes pungent scents, and the set up of ventilation and air scrubbers also assists in odor removal. There is the added problem of air quality--both within the structure and the surrounding area.

Odor Control Methods for Stubborn Odors
There are a few ways to remove deeply embedded odors in the structure. A standard method SERVPRO technicians use is thermal fogging. This application heats a solvent to the point it is fog, and it behaves like smoke and deeply penetrates anywhere soot may be and neutralizes it.

Hydroxyl generators are a safe way to remove odor-causing airborne particles from the premises. This piece of equipment emits UV rays that create radical ionized molecules that are not harmful to humans or pets and eradicates odors by pairing with them.

When you have stubborn odors from wildfires, contact SERVPRO of Canoga Park / West Hills at (818) 998-1500. The technicians have a diverse array of equipment, tools, and applications to make the odor issue in the home disappear, "Like it never even happened."