How Fire Damage Poses Safety Risks for West Hills Homes
12/9/2019 (Permalink)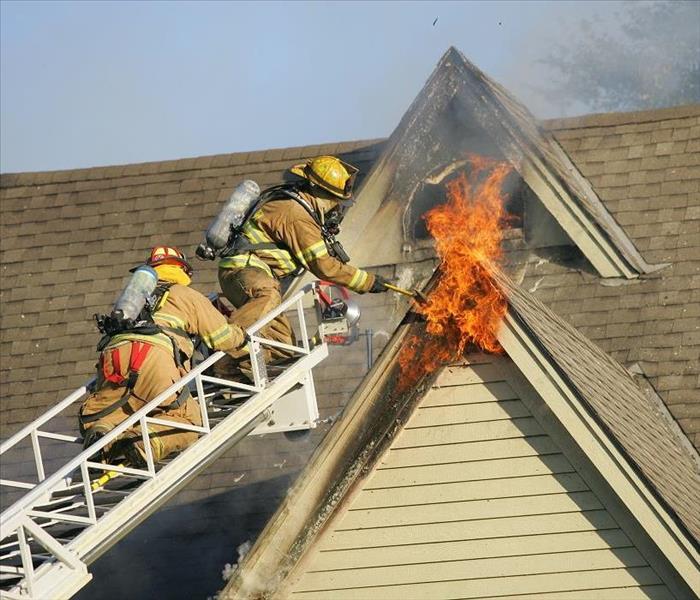 Areas of your home untouched by flames can have structural damage. Safety is important! Contact professionals for fire damage restoration.
Staging and Hazard Assessment for West Hills Homes
Creating the most efficient approach for mitigation and emergency services in your fire-damaged West Hills home is critical. One of the effective means of maximizing our output is through staging areas that can support the storage of our equipment and products throughout the phases of mitigation that begin as soon as our team arrives. This unaffected area of your home can be a more accessible location for the tools, devices, and products the SERVPRO restorers on-site need to make fire losses "Like it never even happened."
Staging areas are a common element to most of the fire loss recoveries. Still, before the restoration of fire damage in West Hills houses can begin, we must also inspect potential hazards. The safety of our technicians and the occupants of the house is a paramount priority of our team, and that is why risk assessment and management become integrated with the initial scoping of the job completed by our crew chief and production manager before work begins. During this evaluation of the property, we look for common threats that exist after many structure fires.
Structural weaknesses that could collapse or fall apart
Slip or trip hazards that exist before fire debris removal has taken place.
Exposed electrical elements or water intruding into charged items and outlets that pose shock threats.
Dark areas that could have unforeseen risks
We must also consider if anyone still on site is at risk for exposure to damaging conditions. Air quality threats are a common threat in this regard, as the presence and circulation of soot and smoke particles can cause health effects with direct exposure. Our SERVPRO team arrives with sufficient personal protective equipment to begin mitigation safely and encourage occupants of the house to vacate until our professionals can manage these risks adequately.
As threatening as fire loss incidents can be for your home, they can be a dangerous situation if we do not take appropriate precautions to assess potential risk. You can count on fire recovery to be thorough with our SERVPRO of Canoga Park / West Hills team. Contact us whenever you need us at (818) 998-1500.
More about West Hills.