Why SERVPRO Is The Leader In Canoga Park Water Damage Restoration
1/28/2020 (Permalink)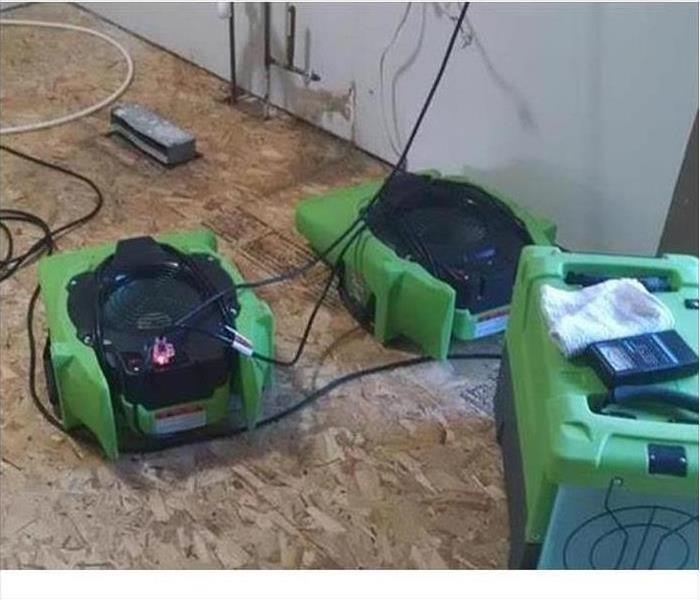 Our dehumidifiers and air movers worked hard to remove the last vestiges of water vapor from the already partially demolished floor in this home.
Water Damage Canoga Park – Trusted by Clients
Whether you are a residential or business owner, clients are looking for someone that can be trusted to get the job done. Our customers look for a fast response to their needs, professional team members, and experts trained in remediating damage caused by water leaks in their buildings. Clients also want their possessions cleaned, restored, and returned in their original condition.
SERVPRO provides water damage services in Canoga Park and surrounding areas. Our owner has been in the business for over 20 years. He brings a wealth of experience and training in every job. Our teams are available 24 hours, seven days a week, and respond to your site in less than 4 hours from your call. Our philosophy is to restore whenever possible rather than replace it. This process saves time, cost, and, most importantly, returns cherished possessions to the owner.
Hard Work Pays Dividends for Our clients
Our ongoing commitment to improving our equipment based on industry standards means we have the most advanced equipment available. We can also apply advanced techniques using this equipment and the training our team continually undertakes to handle every challenge.
SERVPRO also utilizes a program, DryBook, exclusively to manage the progress of all of our restoration projects. We measure your water damage incident against industry standards for recovery and restoration.
Occasionally there are significant incidents that require additional resources than are available locally. One of the significant benefits of the SERVPRO franchise is that we can call on our franchise partners for assistance. Whether it is additional equipment, team members, specific expertise, rest assured our SERVPRO partners can be available to meet the challenge.
We are a locally owned franchise with over 20 years of experience and backed up by over 1500 franchises across the country.
Call SERVPRO of Canoga Park / West Hills at (818) 998-1500 for 24/7 service. We proudly serve Bell Canyon, Winnetka, and surrounding areas. We're Faster To Any Size Disaster.
See more about Canoga Park.