Our Team Arrives Quickly In Canoga Park After A Flood
2/26/2020 (Permalink)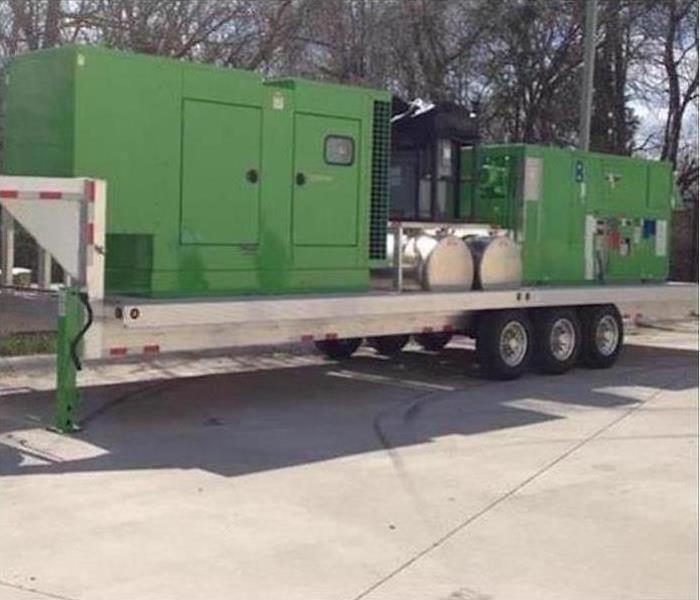 We provide the state of the art equipment needed such as this desiccant dehumidifier shown in the photo. Call us right away to prevent further damage.
Flood Damage in Canoga Park Garage and Kitchen
One of the most common causes of flash floods that result in flood damage to properties in the local area happens due to periods of drought. When the ground becomes hardened from lack of rain, it doesn't readily absorb moisture, and the rainwater tends to run off.
A homeowner in Canoga Park with flood damage had almost an inch of water on the floor in their kitchen. The water entered the attached garage and came into the home. When this happened, the first call was to SERVPRO for extraction and drying.
Scoping for Water Migration
SERVPRO technicians inspect the property to determine all areas of water loss. Floodwater wicks into sheetrock quickly and commonly needs controlled demolition to limit the damage to the structure. Fortunately for the homeowner, the seal on the grout on the kitchen floor tiles did not allow any seepage of the water. The baseboards and the lower portion of the sheetrock around the room got removed for drying.
Thorough Extraction Lessens Drying Time
The techs use multiple pumps to remove the remaining water rapidly. It is standard for the techs to do several "dry" passes to ensure they remove the highest amount of moisture before moving on to the drying phase.
Complete Drying Lessens Loss
When water gets left behind within walls or other areas after a flood damage loss in a home, there is the potential for serious issues such as damaged building materials, mold growth, and pungent odors. The technicians set drying goals and monitor the process carefully to ensure the area with water damage hits preset ambient humidity levels. The use of specific equipment to drive air within wall cavities and over the flooring to ensure embedded moisture gets pushed to the surface and removed by the dehumidification equipment.
Cleaning After Drying is Essential
Once the kitchen is dry, SERVPRO techs wipe down all surfaces with their professional antimicrobial and antibacterial cleaners to ensure the loss area is left sanitized for reuse.
When flood damage is the problem, call SERVPRO of Canoga Park / West Hills (818) 998-1500. Their certified techs have both the experience and equipment to make the water loss to the property, "Like it never even happened."
See more about Canoga Park.