We Act Fast In Canoga Park After A Water Loss
3/13/2020 (Permalink)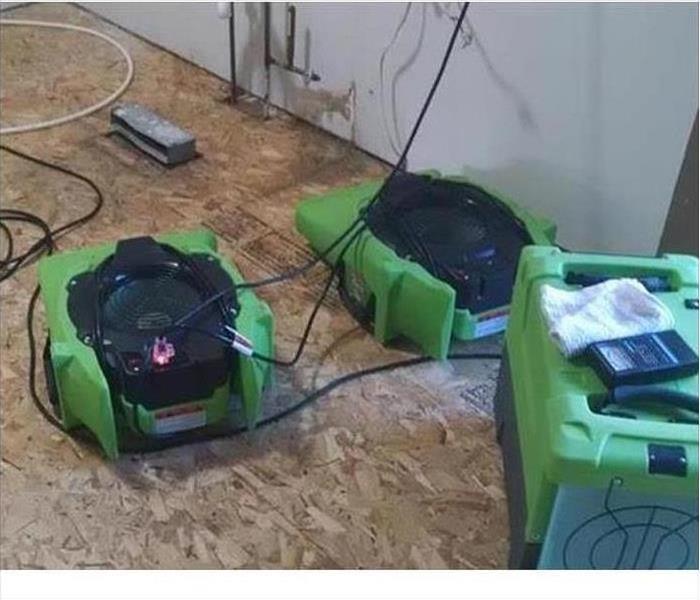 Our dehumidifier and air movers worked hard to remove water vapor from this room after a pipe busted. Call us right away to prevent further damage.
Water Damage Canoga Park – Long Term Leaks & Mold
Leaks around windows, and also from pipes with pinhole leaks inside walls can lead to the growth of mold and cause long term water damage with potential health risks. In many cases, the first time a homeowner notices that there is a problem is the musty smell in specific rooms in their homes. There may be no signs of water, yet there is that ongoing smell that lingers.
SERVPRO provides water damage services in Canoga Park and surrounding areas. We deal with water damage and mold infestations often. Whenever there is a dark, warm place with moisture and a food source, mold can begin to grow exponentially in less than 48 hours. We are available on a 24 / 7 basis to respond and help deal with water damage and mold growth.
Mold Growing Inside Walls & Crevices
While there are no apparent signs of water leakage, the musty smell is a give away that there is a leak somewhere, and mold spores have begun to multiply. SERVPRO has a variety of methods to detect high moisture areas and the source of the musty smell in these situations. We use moisture meters and infrared cameras to detect areas that are not dry.
Infrared cameras show wet areas that are cooler in temperature due to high moisture levels compared to dry areas. Moisture meters can check surfaces as well as penetrate drywall to detect high moisture areas. Many clients are surprised to learn there is a mold infestation inside a wall after we have shown pictures from our infrared cameras and opened up the wall.
Vinyl wallpaper acts almost like a vapor barrier. The wall behind the wallpaper may be damp, while the exterior of the wallpaper is dry. Mold can grow on the wallboard under the vinyl wallpaper and not be detected by the homeowner.
SERVPRO can help find the source of the mold, the water damage, and dry the underlying structure. Repairs can also be completed to avoid future problems of this type.
Call SERVPRO of Canoga Park / West Hills at (818) 998-1500 for 24/7 service. We proudly serve Bell Canyon, Winnetka, and surrounding areas. We're Faster To Any Size Disaster.
See more about Canoga Park.