How Do I Clean Up After Widespread Water Loss in a Canoga Park High School?
6/18/2020 (Permalink)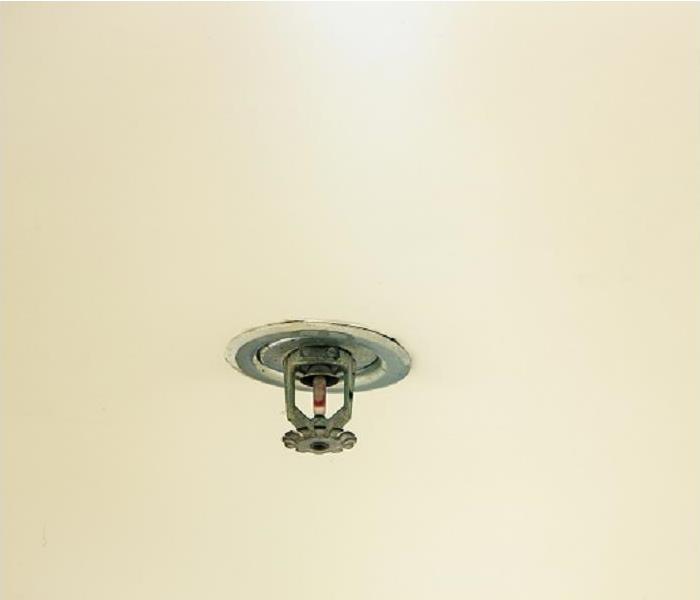 Malfunctioning sprinkler systems can cause significant water damage. Should your system malfunction, call SERVPRO for fast remediation.
When fire suppression systems get tied into the main water supply, a breach in these lines can leave substantial water damage to overcome.
There are many potential causes for a fire suppression system failure, such as breaking off one of the sprinkler heads or a misinterpreted signal in the system of your Canoga Park high school. Once water is coming from this system and tied into your primary water line servicing the building, you could contend with an endless flow of water until you shut down the water supply to this system.
Because this plumbing network gets piped throughout the entire structure, many areas could require water restoration in your Canoga Park school. Our team of professionals works to provide complete mitigation solutions beginning as soon as we arrive, including extraction and drying efforts. In the earliest stages of the water loss incident, it is also possible for those within the school to reduce overall losses with some fast actions.
What Can I Do to Help the Situation Before SERVPRO Arrives?
There are a few simple steps that you can take before help arrives when it is safe to do so. There are situations where water damages can overwhelm the building too quickly to complete any of these tasks safely, and in these circumstances, it is best to vacate the premises. Safety should always be paramount in water emergencies, but when possible, here are a few steps that you can take:
Shut off the water – Often, there is a ball valve attached to the primary feed line for the sprinkler system. Stopping water flow can prevent even more pooling and standing water concerns throughout the school's damaged areas.
Identify the affected areas – Depending on the incorrect code or the physical damage to the suppression system, the water concerns might not be in every school area. Identifying the problem areas to convey this to our responding SERVPRO team can save time.
How Can Professional Restorers Clean Up the Mess?
Through both the mitigation and the restoration process, multiple tasks can recover your damaged structure. Cleaning up after a water emergency involves various phases utilizing dozens of tools and machines in our inventory. Ultimately, we can break down the restoration process into specific blocks:
Extraction – Removing surface water in Canoga Park is almost always the initial actions taken during water loss incidents. Several tools can meet these criteria, but with the tile flooring throughout most of the school, submersible pumps, wet vacuums, and squeegee wands are often the ideal approaches.
Drying – Drying can often be a generalized part of the restoration process, but it involves several steps happening in succession. Tools like air movers and dehumidifiers are the foundation of this effort, as they promote airflow and regulate humidity as evaporation occurs.
Surface Cleaning – Residues and debris are a common obstacle for our SERVPRO professionals after drying. With chemical solvents and abrasive cleaning techniques, we can restore surfaces to their original appearance.
Moisture Meters – We can double-check our efforts and ensure that we did not miss moisture pockets during our drying phase before finalizing restoration.
Does SERVPRO Do Repairs and Build Back?
With a team of in-house contractors, we can offer controlled demolitions for widespread water losses and replace several damaged fixtures and materials. With several areas and materials exposed to standing water before mitigation efforts occurred, several construction solutions might be necessary to make these losses "Like it never even happened." Some of these include:
Plumbing Repairs – From replacing the broken fixture on the fire suppression system to a plumbing break in one of the block walls, these repairs allow the lines to get pressurized again and water service restored to the building as soon as possible.
Ceiling Tile Replacement – Ceiling tiles are a typical installation in schools that can be damaged by sprinkler system malfunctions. Our contractors can replace these materials, which is often more cost-effective than attempting to dry saturated tiles.
Carpet Reinstallation – Carpeted areas in the administration offices and performing arts areas can quickly absorb water damage and show clear signs of damage. Replacing these carpets is often the best approach to restoring the affected area as efficiently as possible.
No matter how severe water losses might be in your school, our SERVPRO of Canoga Park / West Hills team can help. Contact us 24/7 at (818) 998-1500.