Flames Engulfed Part of My Kitchen and Smoke Spread to Other Rooms. Who Can Help Me Restore My Home?
7/8/2020 (Permalink)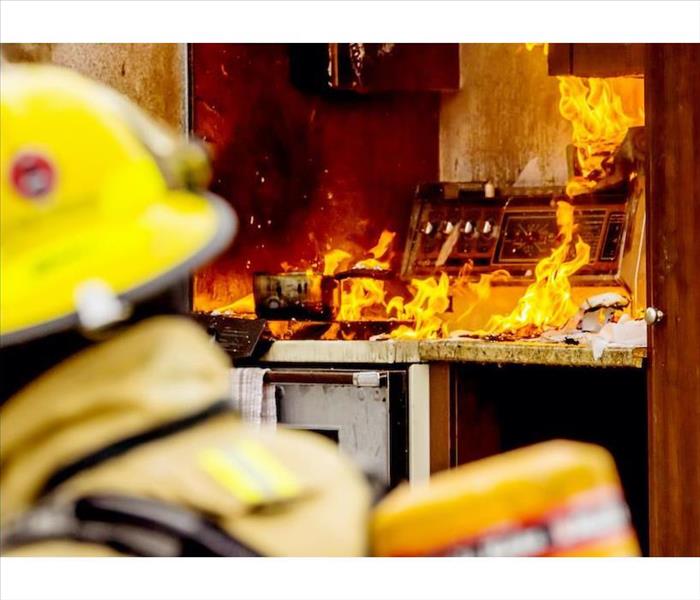 Cooking accidents happen often but the foul odors can remain for a long time. Contact SERVPRO for efficient remediation services.
Hire a Reputable Firm Like SERVPRO to Perform Fire Damage Restoration in Your Winnetka Property
Fire leaves most property owners stranded on where to begin after the firefighters leave their homes. Professional restorers can help minimize the secondary damage of a fire and get your Winnetka property to its pre-emergency state in a brief period. Attempting to clean the affected area yourself can lead to additional damage since you may lack the proper skills and equipment to handle the loss.
How long does the restoration process take?
Our team of technicians has years of experience and access to advanced equipment and tools to handle the fire damage in your Winnetka home. With our advanced equipment and effective techniques, we can restore your property in a brief period. Depending on the severity of the damage, our SERVPRO technicians can take less than seven days to get your property to its preloss state.
Can you clean my kitchen appliances?
Appliances are usually made of materials such as:
Metal
Plastic
Formica
These materials are nonabsorbent, making it easy for our technicians to clean. We can use a wall and all surface cleaner, a water-based detergent to wipe away the smoke residues on their surfaces.
Can you handle the entire restoration process?
We offer a full service and comprehensive solution to fire damage. Therefore, you can trust our SERVPRO team to mitigate the damage and reconstruct the affected areas. We have a contracting division that can offer construction solutions in specific niches such as electrical, plumbing, and drywall reinstallation. Hiring one restoration company can help you save time and money.
How do you deal with persisting odors?
Smoke can travel even in hard to reach areas. Our technicians can use thermal fog deodorants to remove the odors. Thermal fog deodorizers are a blend of aromatic phenolics and odor counteractants. We use a thermal fogger to apply the products and allow them to work overnight. This enables the products to penetrate affected materials, including those in the hard to reach areas.
If a fire has damaged your home, call SERVPRO of Canoga Park / West Hills at (818) 998-1500 to help you bring things back to normal. We're Faster To Any Size Disaster.
Learn more about Winnetka