What Crucial Factors Should I Consider When Hiring Water Restoration Companies in Canoga Park?
7/26/2020 (Permalink)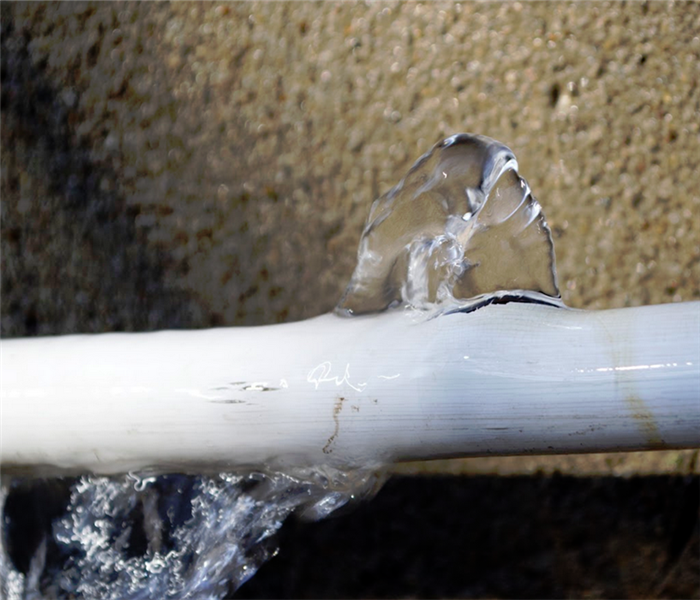 The longer water is sitting in your home the more damage it is going to do. Contact SERVPRO quickly for water damage remediation.
Assistance from SERVPRO Can Help Resolve Problems and Prevent Future Issues from Such an Incident
After a water spill happens in your home, you may realize that you do not have the time or resources necessary to clean and dry the property, restoring preloss conditions. Hiring a water restoration company can lift the burden off your shoulders. However, you might not be sure whether every company offering such services in Canoga Park can deliver the results you expect, or work with your preferred timelines.
When should I call water restoration companies after water intrudes my Canoga Park home?
Water loss situations in your Canoga Park home can arise at any time, including late at night. You might not be sure whether it is a bother to call at such hours. Finding a company that can respond to your distress call at any hour can change the outcome of an incident positively. For instance, SERVPRO has customer service staff ready to respond to your call 24 hours a day. Even though the restoration crews might not arrive at your property immediately, the customer service representatives can give you some useful tips on what to do as you wait for help, thus reducing the level or types of damages that occur. Some of the tips might include:
Removing area rugs, books, and other items from carpeted floors
How to locate and turn off the main water supply line
Which items you can move from the affected section of your house
Water spills in your Canoga Park home can lead to significant repair costs, such as replacement of wall-to-wall carpets due to heavy staining. Staining mostly develops because of dye transfer from items lying on the carpet. Removing items such as draperies, area rugs, clothes, or books from the wet carpet minimizes the sources of such dyes, thus limiting the possibility of widespread staining.
Extended exposure to water or even high humidity levels in the air can cause significant damage to some of the valuables you have in your house. Stopping the source limits further water release into the property. Alternatively, moving items such as electronic appliances away from the affected rooms limits the level of moisture exposure, thus limiting the chances of internal components rusting.
Where should I search for restoration companies?
The convenience of searching for a service provider online means you can choose one located in a different area. However, choosing a local restoration company puts you at an advantaged position because they can respond faster. At SERVPRO, our commitment is to send a fully equipped crew to your property within 4 hours after notifying us of the problem since we are a locally owned company. Before the main team arrives, we also send a few technicians to perform a professional evaluation of the loss, ensuring that we bring the right type and number of tools to handle the restoration task.
Faster response to water loss situations helps ensure that unnecessary secondary damages are minimized. For instance, materials such as solid wood or concrete are semi-porous, so they take time to absorb water so faster extraction limits the amount of water that has to be removed through drying. However, once saturated, they can take longer to dry. Wood might also swell, warp, or develop other physical damages from water exposure. Wood absorbs water in three distinct ways:
Molecular diffusion through cell walls
As vapor through cell lumens
Through capillary tension
Expediting extraction of stagnant water and drying excess moisture from the property is the best way to cut down the different forms of water absorption by wooden materials in your house. Our SERVPRO technicians have access to a variety of pumps and water extractors to complete the task fast. We also set up dehumidifiers around the property to extract moisture from the air preventing absorption through hygroscopic action.
What standards should a renovation company meet?
Many processes performed during the renovation of a water-damaged property require precision. For instance, the wood must be dried to approximately 10% moisture content. The drying process also needs to be gradual to avoid severe outcomes such as cracking. Even the placement and number of equipment used in drying property need proper management to balance the process, preventing issues such as condensation or even mold development.
Proper training and experience are two necessary factors that help ensure proper management of water loss situations to meet industry standards. Our SERVPRO crews are IICRC certified in fields such as Water Damage Restoration and Applied Structural Drying, ensuring we deliver the best results.
With assistance from a good restoration company, water damage is manageable. Call SERVPRO of Canoga Park / West Hills at (818) 998-1500 to help address any incident, "Like it never even happened."