Does Water Damage Restoration Include Office Furniture?
8/10/2020 (Permalink)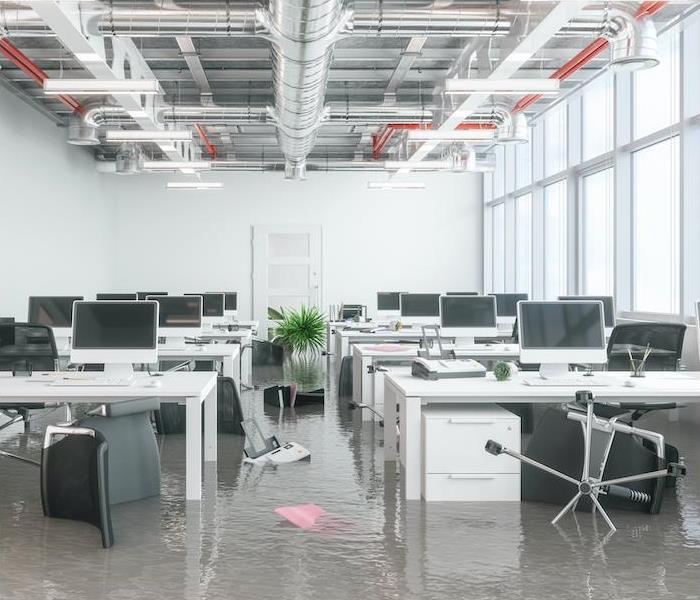 Our water damage experts are trained in a wide variety of restoration needs, even upholstery and fabric cleaning and odor control. Call us today.
Canoga Park Business Owners Need Water Damage Restoration They Can Rely On.
Anyone who owns a company in Canoga Park knows that office furniture is a costly part of setting up business premises. Office furniture needs to be reliable, sturdy, and ergonomic enough to be comfortable to work with.
In the event of water damage to a Canoga Park office, you need a water mitigation team that understands the importance of caring for your furniture.
What are the risks to office furniture from water damage?
Water can wreak havoc with office furniture:
Upholstery and cushions can become waterlogged
Wooden furniture is in danger of warping
Textiles might suffer from stains and discoloration
Furniture might leave rust stains on the carpet
Damp furniture smells unpleasant and can even foster mold growth
Naturally, you do not want to replace your office furniture if you can avoid it. Office furniture is not cheap, and it is better to save it if you possibly can, rather than buy new.
What can SERVPRO do to restore office furniture?
SERVPRO understands that your desks, chairs, and other textiles are essential to the running of your business. There's several things that we can do to help mitigate water damage to your furnishings:
Use fans and air movers to help furniture dry faster
Bring in dehumidifiers to aid drying by drawing moisture from the air
Carry out spot cleaning on damaged upholstery and textiles
Use deodorizing chemicals and air scrubbers to get rid of that nasty damp smell
What about the rest of the office?
Do not worry – restoring your desks and chairs is one small part of our work. We also take care of drying out carpets and rugs, drying wall cavities and vents, and carrying out restoration throughout your building. We tackle mold risks and leftover musty odors to ensure you can get back to business quickly. We can also work with insurance adjusters on your behalf, to lessen your stress.
We are Faster To Any Size Disaster, and customer satisfaction is of utmost importance.
If you have concerns about water damage in your business, call SERVPRO of Canoga Park / West Hills at (818) 998-1500.
See more about Canoga Park.