Which Questions Should You Ask Mold Removal Companies?
8/15/2020 (Permalink)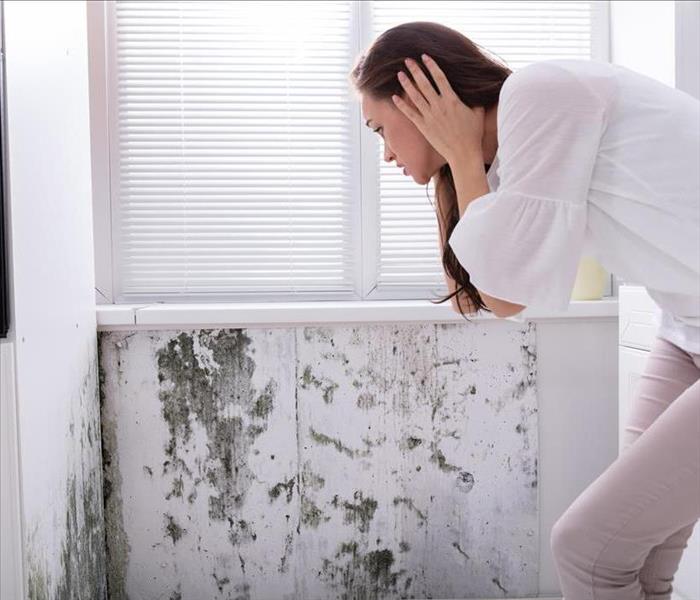 Hey Canoga Park Homeowners--Don't Wait Until the Mold Ruins Your House--Call SERVPRO for Remediation
What Should You Look for in Canoga Park Area Mold Removal Companies?
Canoga Park residents lead busy lives, which means that when they need to hire someone to help with a household problem, they do not have a lot of time to waste finding the right person for the job.
Mold is an issue that can quickly arise in a home – so long as there are moisture and material such as drywall or wallpaper for food, spores can grow. Mold can cause health effects, so it is much better to call in a Canoga Park mold removal company than to try and handle remediation by yourself.
Naturally, you want to be sure you are choosing a remediation company that is professional and reliable. Here are some questions to ask to help you make a decision.
Do they promise complete mold removal?
SERVPRO of Canoga Park / West Hills knows that the promise of mold removal is enticing. A home with no mold sounds like a great thing. However, it is essential to realize that complete mold removal is not possible. This is because spores occur naturally throughout the environment, and can quickly move from place to place on:
Clothes and footwear
Air currents
Pets and even shopping bags or purses
As you can see, it is not possible to completely eradicate mold. However, mold removal companies can remediate mold – this means getting rid of visible patches and stains, and then drying out your home to discourage further spore growth.
How fast can I expect a response
The longer you leave mold, the more chance it has to grow and spread. Thankfully, SERVPRO works 24 hours a day, 365 days a year, so that we can be Faster To Any Size Disaster. No job is too big or too small, and you can trust us to arrive quickly and get to work straight away.
What kind of testing and monitoring equipment do they use?
Inspection, not actual testing and monitoring are an essential part of mold remediation. SERVPRO technicians inspect your home for visible and invisible moisture patches before they begin cleaning and restoration. A thorough understanding of how much moisture is present helps us decide on a cleaning and drying plan.
We test the moisture in your home using thermal hygrometers, moisture meters, moisture sensors, and thermal imaging. We continue to use these tools to monitor progress until we are satisfied with the result.
Do they employ containment as part of their remediation process?
Containment is essential, and all reputable mold removal companies use it to prevent the spread of spores throughout your home. SERVPRO teams set up containment before cleaning begins. In some cases, containment means switching off heating and cooling systems and making sure no unauthorized personnel walks through the area. In more advanced mold remediation situations, containment might include setting up physical barriers or even using negative air machines to trap spores and vent them outside the building. We can erect spring-loaded supports with 6-mil thick polypropylene sheets to create temporary barriers which also limit the treatment area for greater efficiency.
Do they train their staff in a range of remediation techniques?
Each mold removal project is different, so we train our staff in a range of remediation techniques.
Our technicians use a variety of cleaning methods, including:
Spot cleaning for delicate fabrics
Scrubbing for robust materials such as stainless steel
Dry cleaning methods for articles that cannot withstand wet cleaning
We assess your home and belongings and decide on the best cleaning methods for each item. We discuss our remediation plan with you before carrying out a single step, so you can rest assured nothing will happen to your items without your explicit permission.
What about the moldy smell – can they help me with that?
SERVPRO understands that the smell of mold can be very unpleasant and makes your home less enjoyable. That is why we finish every mold removal project with deodorization. We use foggers, deodorizing products such as pellets, and air scrubbers, to remove airborne contaminants and restore air quality.
What about home restoration?
In some cases, mold damage can leave your home in need of minor repairs. For example, we might need to remove and replace drywall, re-paint or put down new carpets. Sometimes, a house needs more extensive structural repairs. Ensure your mold removal company can help you with restoration, so you do not have to pay for a separate contractor.
Will they follow up with me after the restoration project is complete?
Our team takes pride in satisfying our customers by meeting all their expectations. After all, we work to restore homes and businesses and leave them usable once more. Our team will always follow up with you after we complete mold remediation, to make sure you are happy with the service we gave you, and to answer any last questions you have.
For a professional mold remediation service, call SERVPRO of Canoga Park / West Hills at (818) 998-1500.