How Does Flooding Impact Local Cell Phone Service in Canoga Park?
9/20/2020 (Permalink)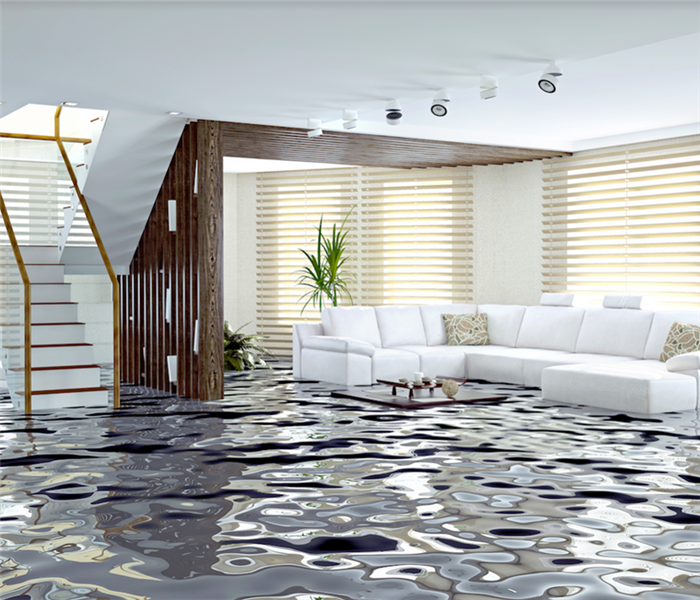 Our technicians follow standards set by the IICRC and OSHA. Contact us when facing flooding, regardless of the source.
SERVPRO Technicians Remove Flood Damage from Canoga Park Homes to Return Them to Pre-Loss States
According to recent data from the Brooklyn nonprofit First Street, as many as 14.6 million homes in the United States today are at risk of flooding. While FEMA maps offer a great deal of insight into where flooding is most likely to affect residents, these maps provide somewhat broad data on floodplains in 87% of the country. Canoga Park residents may be surprised to find that a whopping one in five homeowners in Florida and Louisiana alone are at risk of flooding affecting their property.
If your Canoga Park home experiences flood damage, you can call SERVPRO at any time of the day or night to begin the mitigation process. SERVPRO's commitment to staff education and the use of both tried-and-true techniques in tandem with sophisticated technologies strives to minimize property and structural loss while maximizing savings on repair and replacement expenses.
How Does SERVPRO Training Prepare Professionals for Flood Damage Cleanup?
SERVPRO technicians, staff, and franchise owners alike undergo extensive training and certification to ensure that services rendered are up to date with restoration industry cleanup techniques and standards. Staff must also meet SERVPRO training standards to ensure a consistently high standard of mitigation and restoration.
SERVPRO's training and education resources include the following:
Institute of Inspection, Cleaning and Restoration Certification (IICRC) Training and Certification for staff.
Employee Certification Training in such subjects as fire and water damage restoration.
Initial Franchise Training at SERVPRO's Corporate Training Facility, targeted at new franchise owners.
Continued Education Classes that provide both credit and noncredit learning opportunities for SERVPRO staff as well as insurance and real estate professionals.
E-Learning opportunities that continually test and improve staff knowledge while encouraging self-paced coaching and study of restoration industry subjects.
What are Some Tips for Using Cell Phones During a Flood Damage Situation?
While SERVPRO can take care of the flood damage on your Canoga Park property, it is crucial to know how to stay in touch with the communities and emergency services as needed during a flood or related natural disaster.
Text whenever possible instead of making calls. Not only do text messages require less battery power and data to transmit, but they can still be sent even when your cell phone signal is weak, and Internet access is limited.
Expect cell network congestion. In a flood or other emergency, many customers are going to be making a much higher number of phone calls than usual, which can create difficulties in making phone calls or accessing your phone network.

If you need to make a call and notice you have a slow dial tone on a landline or you see rapid busy signals on your cell phone, hang up and try again after several seconds minimum. Avoid non-emergency phone calls during this time to minimize network congestion.
Limit social media usage. While social media is an excellent tool for keeping family and friends informed during an emergency, some users may be compelled to use it to attempt to get in touch with emergency services, as was the case during Hurricane Harvey in 2017. However, first responders cannot monitor social media to such an extensive degree. If you need emergency services, give them a call.

Some social media sites, like Facebook and Instagram, can also take up a considerable amount of battery power quickly on phones, tablets, and laptops. Use these apps and sites sparingly to let your loved ones know you are safe and focus on conserving battery life if you are unsure when your Canoga Park property's power can be restored.
What Types of Services is SERVPRO Licensed to Render?
Your local SERVPRO sports a variety of accreditations to maximize the number of services available for structural and contents restoration. Technician certifications include the following:
Applied Microbial Remediation
Applied Structural Drying
Water Damage Restoration
These services are the backbone of addressing flood damage concerns, including mold growth, structural damage to subfloors and drywall, and safely removing moisture with industrial-grade air movement and dehumidification equipment. SERVPRO technicians also provide odor control services to remove flood debris and water damage related odors from your Canoga Park home.
On top of these technician certifications, SERVPRO is an Institute of Inspection Cleaning and Restoration Certification (IICRC) certified firm with additional certification in General and/or Construction Industry Training as provided by the Occupational Safety and Health Administration (OSHA).
SERVPRO of Canoga Park / West Hills keeps disaster-affected homes looking, "Like it never even happened." Call (818) 998-1500 for professional cleanup services.