How Do Professionals Remove Soot and Smoke Residues from Ceilings?
9/24/2020 (Permalink)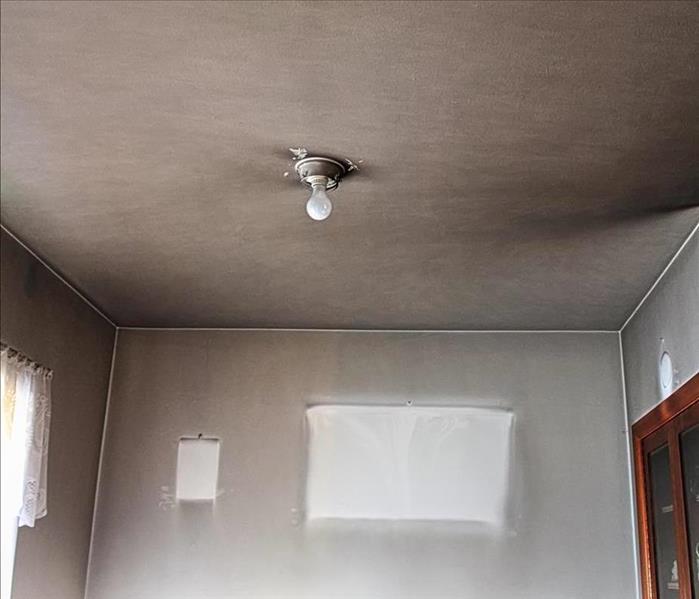 SERVPRO Says Let Us Clean the Sooty Deposits from Your Canoga Park Home after a Fire, "Like it never even happened."
Residents of Canoga Park Often Choose Professional Fire Restoration Technicians to Perform Cleaning and Odor Control after a Housefire.
Is it safe to clean fire damage myself?
Once a fire marshall clears your Canoga Park property for safe entry, you can re-enter and perform light-cleaning duties. The main risk of performing fire restoration by yourself is spreading around soot or smoke residues and maintaining safety in the structure. While most noxious fire gases disperse within the first few hours, small debris or soots inhaled or ingested can have health effects. Professional technicians have both the necessary skills to identify different types of smoke residue and the correct personal protective equipment (PPE) to perform the task. Often, identifying the types of smoke residue can be a massive help in restoring walls or ceilings.
What light-cleaning can I do in a fire-damaged property?
Open windows to provide natural ventilation of the area
Cover items or surfaces, especially carpets, with sheets or other barriers
Perform light vacuuming of surfaces
Why do experts vacuum properties with fire damage?
When you use a fire restoration expert in Canoga Park, you may notice them using vacuums in the property during the early stages. Soiling on walls can often be a composite of different smoke residues. Vacuuming surfaces help to dislodge and remove dry smoke residues from the body. By performing light-vacuuming of an area, we can guard against spreading or setting soots by introducing water. A SERVPRO technician can remove dry soot relatively easily. However, for wet soots, there is a decision-making process that requires testing and a range of oil-based or water-based cleaning methods.
What cleaning products are used during fire restoration?
Oil-based solvent chemicals
Water-based solvents and detergents
Deodorant chemicals to mask or eliminate odors
If a housefire covers your property in smoke or soot residues, contact SERVPRO of Canoga Park / West Hills at (818) 998-1500 now.