Are Flood Damages Reversible for Residential Properties?
10/21/2020 (Permalink)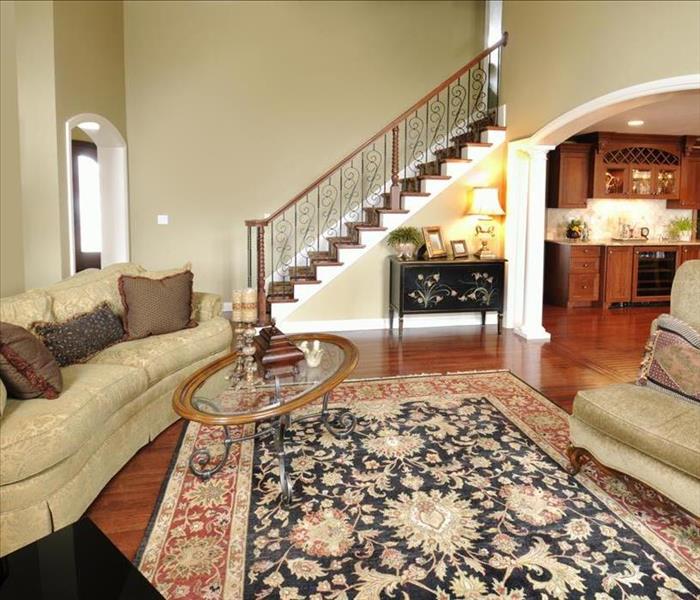 Canoga Park Homeowners Know to Call SERVPRO for Flood Damage Mitigation--We Strive to Restore and Not Replace, Like this Photo!
SERVPRO Flood Damage Recovery Teams Can Return your Canoga Park Home to a Pre-loss Condition After Natural Disasters.
A large weather event can cause flooding of your Canoga Park home. While most flooding situations that we come across result from burst water pipes or broken appliances, natural disasters can also lead to floodwater intrusion for residents. When dealing with flood losses, the two crucial factors are the amount of water entering the building and that water source. Generally, storm-related losses involve hundreds, if not thousands, of gallons of water entering a property. In the case of flash flooding, this water may contain massive contamination, dangerous to human health. We recommend that you avoid contact with flooded areas of the property and contact a local restoration service like SERVPRO as soon as possible to reduce losses.
What are black water impacts, and how do they affect loss recovery after a natural disaster?
The impact of flood damage in your Canoga Park home is usually calculated based on the category of water contamination. Blackwater, which is also known as category three water, is unsanitary water. Floods may carry silt and debris into your home alongside human pathogens or chemicals like pesticides. The dangerous nature of blackwater makes it necessary to perform the replacement of porous materials in your home. These materials could include carpets, textiles, and light-weight parts of a structure's building assembly like drywall. Some expensive fabrics in the home may be restorable even after black water exposure using advanced cleaning equipment. However, cheaper materials are replaced to avoid disease or other contamination remaining in the house after a flood.
How are high-value rugs cleaned after black water exposure?
Mechanical cleaning takes place using an Esporta washing machine to remove up to 99% of contaminants.
The material is treated with a powerful biocide cleaning agent to remove any harmful bacteria or viruses.
An industrial hygienist, if required, inspects the clean, dry rug to confirm that it is safe to reuse
Are hard-woods non-salvageable after exposure to black water?
Often expensive, resilient materials such as hardwood are recoverable from high-level water exposure. The cost of replacing these materials and the working hours required to reconstruct parts of the home far outweighs the cost of restoring these pieces of structure. Hardwoods are frequently saveable because they can handle powerful cleaning agents, biocides, disinfectants, and bleaches. SERVPRO can often recover these materials through careful cleaning and drying- even during black water emergencies. We operate quickly to save floor finishes as well as building framing. The less time a semi-porous material is exposed to black water, the less damage it takes on. Working quickly to dry these items is critical to the mitigation of losses in your home.
What types of harm does water exposure cause to hardwood?
Warping or buckling occurs as wood expands from absorbing excessive quantities of moisture. You may see pressure at the joints, and, in some cases, buckling becomes permanent after drying.
Cupping creates a concave shape from wooden materials and results from water exposure from the sides or back. It is often possible to sand floorboards and remove cupping.
Crowning occurs when water exposure warps wood into a convex shape and creating an arch. Crowning can happen when drying efforts are too aggressive and typically cannot be sanded out.
How do water technicians control hardwood floor losses?
Monitoring is an essential technique when dealing with valuable materials like hardwood floors. The monitoring process uses equipment like thermal hygroscopes, moisture sensors, and probes to regularly assess solid materials' moisture content. Some losses can occur as a direct result of over-drying, such as crowning. To avoid these types of losses, SERVPRO technicians ensure that woods return to their natural moisture content of around 12% without letting the materials dry out too much. Restoring floors can take months, but with careful measurements and techniques, we can return them to a preloss condition, often by sanding and refinishing the damaged materials.
What happens to wood products like particleboard after water exposure?
Materials held together by glue can often be non-salvageable as water exposure wears away the adhesive causing the ply to fall apart.
To restore wood materials, the wettest point must be within 4% of its natural moisture content.
Delamination of wood products can lead to disintegration and usually require professional replacement.
Flooding can lead to vast amounts of water exposure in your home. This exposure can include harmful substances, which may require extensive disinfectant and replacement of affected materials. Contact SERVPRO of Canoga Park / West Hills at (818) 998-1500.