Fire Damage Classes Explained
9/19/2016 (Permalink)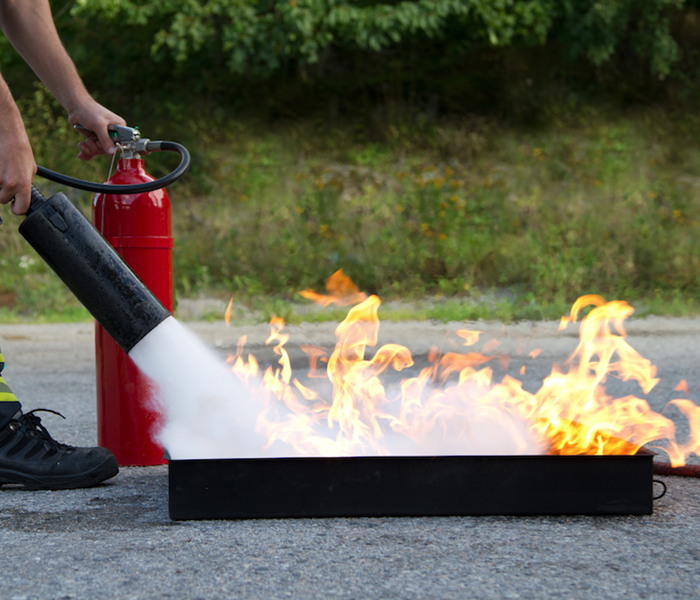 Being trained on how to use a fire extinguisher can be very helpful. Call SERVPRO to remediate any fire or associated water damage!
SERVPRO Can Remediate any Class of Fire Damage
When you call and report a fire, one of their questions will be – what caused the fire? The reason for this question is for the first-responders. Firefighters and EMS personnel will need to know how they will fight the fire and how to treat any injuries. Fires are fought based on many different factors, such as its source, its size, and types of things surrounding its location.

In September, fire damage in the Canoga Park area occurred when our neighborhood homeless shelter was extremely damaged by a fire that broke out behind the building. The shelter's wall, patio, and appliances storing food were destroyed. Thanks to our wonderful community, everyone came together and are helping to restore this great organization.

Fires are fought based on their class and category. The different classes of fires and how they are best contained are identified below:

• Class A Fires: These fires leave ash from items such as wood and paper. Water helps to extinguish these fires.

• Class B Fires: These fires are classified as combustible. This includes gasoline, oil, etc. These fire fighting techniques must use a chemical that smothers their effects, taking oxygen away from it.

• Class C Fires: These fires are caused by electrical sources. Carbon dioxide methods are used by firefighters to put the fires out quickly.

• Class D Fires: These fires are caused by metal objects exploding or combusting. A dry powder agent is best used to smother and take away its power of heat absorption so that it can be stopped before spreading.

• Class K Fires: These fires are the most common because they generally start in a kitchen. They are caused by cooking. Firefighters use a specialized extinguishing agent called Purple K, just like the kind in your fire extinguisher.

First-responders always advise homeowners and business owners to keep fire extinguishers nearby. Fire extinguishers are also sold in classes to help extinguish a fire in residential and/or commercial areas:

Class A: paper, wood, plastic, etc.
Class B: flammable liquids
Class C: flammable gases
Class D: metals (aluminum, titanium, magnesium, etc.)
Class E: electrical fires
Class F: cooking fires.

Fire extinguishers are extremely useful if you are near a small fire when it first erupts. However, if your fire is large and you have no control, call SERVPRO to help in your restoration process. We are locally owned and operated meaning that we live and work in the California community. We are professionally staffed with trained technicians and advanced fire restoration equipment. Contact us at any time.

SERVPRO of Canoga Park / West Hills is available 24 hours a day, 7 days a week for water, fire, mold or storm emergency disasters. You can count on us to be available whenever you need help. Call us today at (818) 998-1500 and let us introduce our remediation services.