When Predictable California Weather Becomes Unpredictable in West Hills
12/18/2020 (Permalink)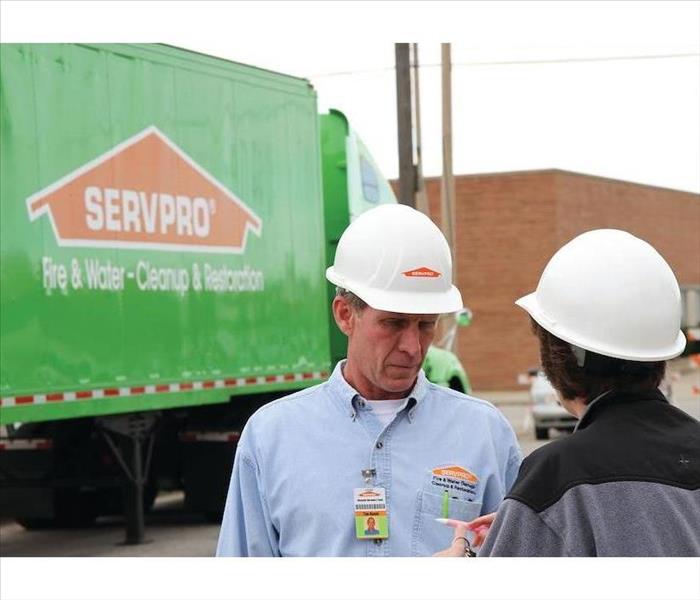 When you experience storm damage of any kind, you can rely on SERVPRO's skilled technicians to bring your property back from destruction.
Just How Vulnerable is West Hills to the Next Big Earthquake?
Whether from local West Hills news sources or nationwide ones, every so often, we hear about the potential for another "big one" that shakes our city, quite literally. These massive earthquakes follow a pattern, more or less, and experts say we may be overdue. But, for all the fearmongering, how much risk do these "megaquakes" really pose? The answer to that may be complicated.
First, we must consider the probability of such an earthquake happening any time soon. While a pattern does exist in the geologic record, it is far from perfect. Sometimes, massive quakes occur just decades apart, while it may take centuries in other portions of history. Like many cyclic weather disasters, these events are unpredictable in their timing, and it may be just as likely as not that nobody alive today will ever see such a quake happen in California.
If a particularly severe earthquake does strike West Hills, the destruction may not be as bad as we expect. Most California buildings are built to withstand the sort of deadly earthquake that could level a city in times past. The great earthquake of 1906 that destroyed most of San Francisco would only cause minor damage to most buildings there today. Virtually every building in West Hills has been built or retrofitted to strict modern safety standards, so it would take an earthquake of truly unprecedented intensity to punch a dent in our community.
Even still, astute homeowners would do well to keep their residences prepared for a potential quake. Keeping fragile items away from places they might fall, ensuring that hazardous materials stay far removed from living areas, and other common-sense precautions are vital when a big earthquake hits. The "big one" may not be likely to knock over your home, but it could knock over some things inside if you are not careful!
West Hills Could Get Snowfall This Season… Or Could It?
Any longtime West Hills resident knows how rare snowfall can be in our city. While the nearby mountains usually get a light dusting at least once per year, the inhabited parts of Los Angeles rarely see a single flake. Being just a bit further north and closer to the mountains than most of the metro area, West Hills has one of the best snowfall chances in any given season. Snow is still rare, however, and requires a few different factors to come together in unison.
One of the most important reasons why we see less snowfall than other inland regions is the ocean. While the Pacific Ocean keeps us cooler in the summer than other places in the country, it also retains heat throughout the winter, keeping temperatures at a relative constant throughout the year. While this makes for a wonderfully warm and mild Los Angeles area, it does make our weather a bit more bland than elsewhere.
Before any projection on snowfall, one must examine if the temperatures allow for it. While snow does not require below-freezing temperatures to reach the ground (since it may be below freezing at higher altitudes), more than a few degrees above 32F makes snow a practical impossibility. Some years, the weather may not get low enough at all, even without cloud cover and precipitation. However, in any given year, the months of November, December, January, and February each have a chance at getting temperatures this low in the pre-dawn hours.
Next, we must have rain. Or, in this case, snow. Under most conditions, any snowfall fails to stick around for long, especially if conditions warm up and rain begins to wash the ice away. However, snow days are not impossible in Los Angeles. Between 1932 and 1962, multiple snowstorms blanketed the area with multiple inches that stuck around for most of the day. In one instance, a 500-person snowball fight erupted, which eventually turned into a full-on riot with numerous arrests. Since then, snow in the area has been rare, but we did see a bit of it in 2019.
So, could we see any snow this season? It is certainly possible. Although accurate forecasts are challenging to make beyond a few weeks in advance, several meteorologists have predicted that late January may be a period of cold, wet conditions. If it gets cold and wet enough, we could potentially see multiple inches of snow. Keep your fingers crossed and your snow chains ready because, with enough luck, 2021 might be a snow year for West Hills.
Top Reasons to Buy Flood Damage Insurance for Your West Hills Home
One of the most unfortunate mistakes that we see our West Hills neighbors make is to refuse or forget to acquire flood insurance. Flooding can happen to any home at almost any time, and while it may be a rare threat, it is one of the most common types of damage we see that is not covered by insurance. Most homeowner's insurance policies fail to cover flood damage without an extra premium, and we strongly recommend paying this (small) premium.
Flood Damage Can Happen to Anyone
SERVPRO franchises nationwide receive emergency calls about flood damage year-round. Flooding comes most often from rainstorms and natural disasters but can also result from human-made issues such as a faulty septic tank or an overflowing drainage ditch. Even something as simple as a busted water line can cause thousands of dollars' worth of damage to your home.
Repairing Damages Can Get Expensive
Although SERVPRO specializes in mitigating damages and reducing costs, flood damage scenarios are often the most time and resource-intensive projects that we handle. While most of our fire restoration projects remain small and localized, our flood damage restorations rarely involve just one room in a home.
It Gets Worse Without Repairs
Uninsured homeowners often try to reverse the damages without assistance or even leave the problem without a solution, hoping it goes away. Flood damages get worse without proper attention and care, with the potential to damage critical structural elements such as support columns and the foundation of your home. Getting assistance from a professional damage restoration company is vital if you hope to avoid these complications.
SERVPRO of Canoga Park / West Hills works with your insurance to get you the best flood damage restoration service possible in West Hills in as little time as possible. Call us at (818) 998-1500.