Expertly Trained Fire Damage Technicians Offer Quality Services in Winnetka
2/6/2018 (Permalink)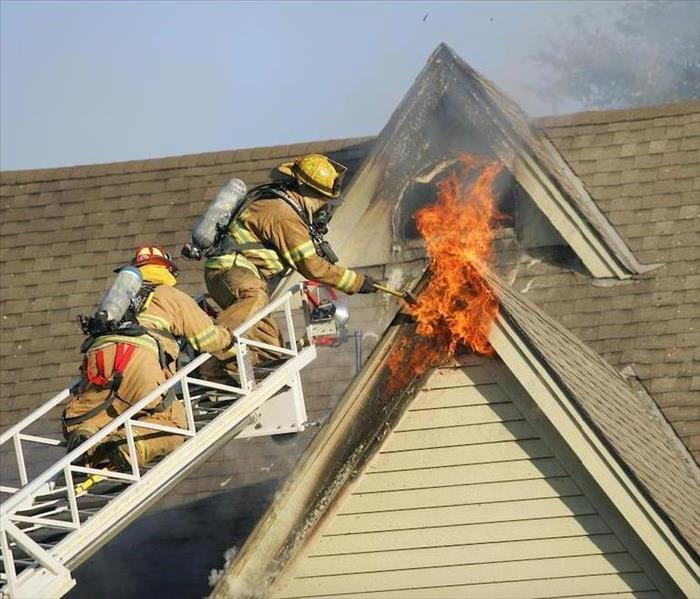 Regardless of the level of fire damage your home experienced, contact SERVPRO for remediation services for great results.
SERVPRO Technicians Put Together a Unique Plan to Remediate Damage After a Fire in Your Home
Different kinds of damage can occur as the structure or contents of your Winnetka property burns. Starting with the partial or complete destruction of those consumed during the combustion process. However, secondary damage develops from the heat and smoke residues, profoundly impacting materials found throughout your home.
Every fire is different, requiring the deployment of unique restoration procedures to limit a variety of losses you might experience from fire damage in your Winnetka area home. Water or other extinguishing agents used to fight the fire in your home can cause more damage while other materials suffer burning or charring, depending on their proximity to the flames.
An expertly trained IICRC technician, like those offered at SERVPRO, can assess fire damage found on your property to provide you with a detailed plan to address the level of each item of loss. We help you understand the type of restoration services required to restore your home successfully and provide you with full-scale solutions that return your home to a quality pre-fire damage condition.
At SERVPRO, we describe fire damage of three levels – Minor, Medium, and Major. The materials, size, duration, and type of fire affecting your home change how our technicians approach the situation. However, some basic rules of thumb remain the same, allowing us the opportunity to prepare for the overall process beforehand, and provide you with fast, efficient services 24-hours a day, 7-days a week.
Minor Fire Damage – The amount of smoke residue is light to moderate, only affecting specific rooms or areas.
Medium Fire Damage – The amount of smoke residue is moderate, and more materials require wet cleaning, repainting, or replacement.
Major Fire Damage – Heat from the fire caused severe damage to structural framing and finishes, leaving charring, staining, and additional scoring throughout.
Depending on the situation, SERVPRO technicians can deploy both dry and wet cleaning methods to your ceilings, walls, floors, and other contents. Your floors may need refinishing, drywall, cabinets, and contents require additional replacement while most instances require deodorization procedures after cleaning.
Contact SERVPRO of Canoga Park / West Hills for a full explanation of our available cleaning and restoration services, or to request an initial inspection of your home, today. (818) 998-1500
Click here for more about Winnetka.