Notify the Experts of West Hills after Fire Damages Your Home
3/9/2018 (Permalink)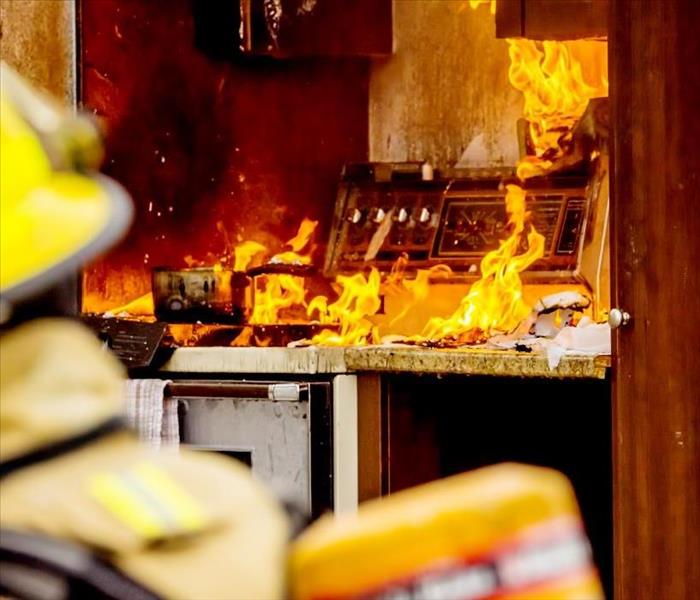 A fire in your kitchen can leave behind different types of soot deposits and smoke damage requiring specific cleaning techniques.
SERVPRO Fire Damage Experts Can Properly Clean the Different Types of Damage in Your Home
It is always a frightening situation when a fire starts in your West Hills kitchen. The first step is to make sure your family and your pets get out of harm's way. Next, the fire usually gets extinguished by either you or the fire department in extreme situations.
Now it is time for you to assess the damage the blaze caused to your home. At this point, it is a good idea to call in SERVPRO's fire damage specialists of West Hills. Sometimes damage caused by a fire is not as apparent as you may think.
Our technicians are IICRC certified and have years of experience repairing damage caused by heat, flames, and smoke. Our crews study the theory of fire and make themselves experts in fire behavior. We know how a fire inside a structure acts, giving us the ability to find all of the damaged areas.
After a blaze, two different types of damage are found inside burnt buildings; burning or charring and soot deposits. Sometimes building and structural materials get charred or burned. In this case, the materials get sanded down and treated or replaced.
Heat from the flames sometimes partially burns items and causes soot. Other times smoke from the blaze leaves soot deposits in areas of the home other than the source. After a burn, there are a few different types of smoke residues that get left behind on surfaces throughout your home.
Usually, smoke gets classified as being either wet or dry. Dry smoke comes from fast burning, hot blazes that burn natural materials. Wet smoke gets generated from cooler, slow-burning fires that burn synthetic materials such as rubber or plastic.
When a fire starts in your kitchen, most times, some food is the fuel source. When food burns, yellow or amber-colored protein soot residues remain. When the burn is related to an oil burner, fuel oil soot exists.
Each type of soot takes a different process to clean and remediate the problem. When dealing with cleaning soot residues, it is smart to call SERVPRO of Canoga Park / West Hills at (818) 998-1500 for help 24/7.
Click here for more information on the West Hills area.