It is Important to Resolve Water Damage to Your Canoga Park Restaurant Quickly
3/28/2018 (Permalink)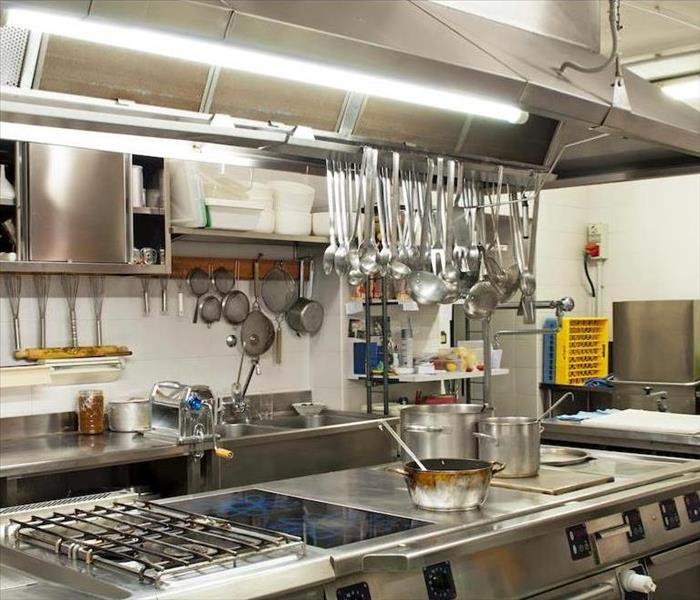 Water damage in any part of your commercial kitchen needs to be dealt with right away before it helps feed mold. Contact SERVPRO for remediation.
Team SERVPRO Uses Modern Equipment to Help Detect the Presence of Water in Your Commercial Space
Your restaurant in Canoga Park focuses heavily on the food that you provide to your customers, but also in providing a quality, memorable experience for every patron that comes through your door. When something like a water emergency threatens the entirety of your businesses from the food making to serving your customers, you do not have a second to lose. Professional restoration services can get your doors back open quickly, or in some cases, work around your staff to allow your restaurant to stay functional while restoration efforts are underway.

Fighting off commercial water damage in your Canoga Park restaurant might seem like something that you should attempt to do alone. If you can suppress the initial appearance of the water issue, your doors can stay open.
Unfortunately, with water damages, it is often the areas that you cannot see that provide some of the most detrimental lingering effects. Contacting our professional restoration specialists at SERVPRO can help you to get the problem resolved completely, leaving no traces of the damage to develop into something worse over time.

From the moment that our experienced technicians arrive at your restaurant, our priority is to understand better the full scope of the damage you face. Through the use of both thorough visual inspections as well as thermal imagery technology, our team can assess the accessible areas and view inside of walls and under flooring to see the farthest reaches of the damage. This process aids our specialists in determining what equipment is necessary to complete the job at hand.

While you never want to have to close your doors to the public, as this is the lifeblood of the restaurant that you run, this might be a necessity to more expediently clean up the mess you face. The longer that you put off this need, the more time things like mold growth have a chance to develop. This issue would undoubtedly close your doors for a much longer time.

When your restaurant gets impacted by a water emergency of any size, you can always trust in SERVPRO of Canoga Park / West Hills to help you clean up the mess and set things right again. Our emergency response team is available 24/7 by calling (818) 998-1500.

Click here for more information about the city of Canoga Park.