Mitigating Commercial Fire Damage in a West Hills Movie Theater
6/10/2018 (Permalink)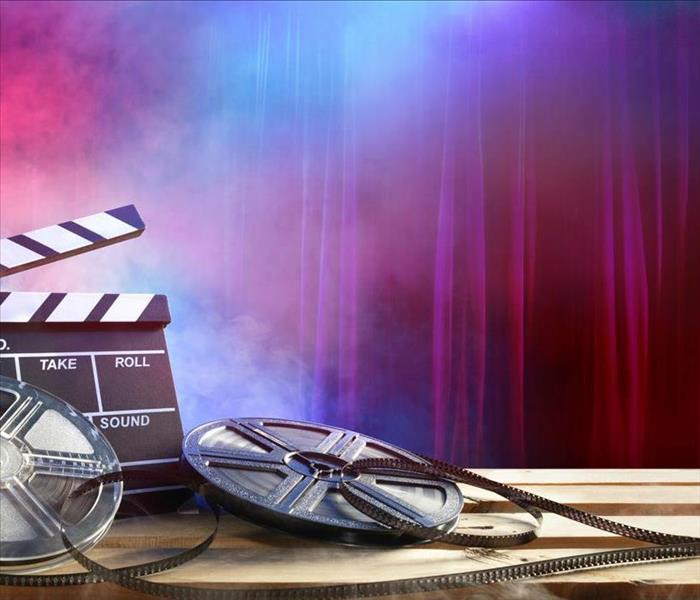 West Hills Commercial Properties Like Movie Theaters Rely on SERVPRO for Fire & Smoke Damage Cleanup and Restoration
SERVPRO Strives to Cleanup and Restore Commercial Buildings After Fire & Smoke Damaging Events
Many people love watching movies at home, but a trip out to see the latest release with the family or friends rates very high on many people's list of fun things to do around West Hills. Fire regulations forbid smoking, but offenders still do break the rules. When this happens, avoiding getting caught often trumps putting a cigarette out safely.

If a West Hills theater suffers commercial fire damage because of a smoker, the costs to repair everything "Like it never even happened" can become a major setback. At SERVPRO, we work with your insurance company to help make sure that all damaged areas receive the attention necessary while keeping costs as low as possible for you, the customer.

Fire damage can easily affect any area of your business, including food products, carpeting, seating, walls, doors and entryways, and anything else. Water from firefighters can also cause problems, and we are ready to help you deal with this effectively. Smoke odors caused by soot can continue to pose severe problems for patrons far into the future if not treated properly.

Certified by the IICRC, SERVPRO technicians easily and quickly remove damaged sections of materials in small pieces so they can fit into double bags, making for easier removal. We bring in replacement materials after we finish all of the other work. This prevents moisture from extinguishing the fire from affecting it and also keeps it safely out of the way while we work.

Both moisture in the air and odor-causing particles can easily stay there unless removed. This is why we use our air scrubbing machinery. Even with wiping every surface down to remove soot, the odor can still bother people. High levels of humidity not only make these odors ore noticeable, but they also make it easier for mold and mildew to begin growing. These microbes can grow almost anywhere, including under seats and also between them, and anywhere else inside your theater. There is also the concern of patrons tracking mold spores home with them.

When odor remains, we can use ozone treatments, or thermal fogging. Both can rigorously decrease the amount of odor experienced, with thermal fogging being the more effective of the two choices in most situations. Thermal fogging techniques mimic the pathways that the smoke followed much more than ozone methods do, making it more reliable. Hydroxyl generators can also be very effective devices to neutralize malordous particlulates. Indoor air quality of a high level is a crucial aspect of the overall treatment.

SERVPRO of Canoga Park / West Hills' employees love watching movies, much like everyone else, and wants to help ensure that your movie theater or other workplace remains a safe place for families to enjoy some time together. Call us at (818) 998-1500 for help.
Click here for more community information.